Attention A T users. To access the menus on this page please perform the following steps. 1. Please switch auto forms mode to off. 2. Hit enter to expand a main menu option (Health, Benefits, etc). 3. To enter and activate the submenu links, hit the down arrow. You will now be able to tab or arrow up or down through the submenu options to access/activate the submenu links.

Women Veterans Health Care
Archived News
Indiana Student Runs 160 Miles to Remember 160 Fallen Women Veterans
She's always been a runner, but she's never done a run quite like this.
This weekend, Indiana University graduate student Tricia Oxford will join a Navy captain in Virginia to run 160 miles in 160 hours to honor the 160 American women who have died serving their country in Iraq and Afghanistan.
It's called "Valor Knows No Gender: A Run to Remember." Learn More*
---

Michelle Obama Graces the Cover of Redbook, Makes Striking Statement about Unemployed Women Veterans
Michelle Obama will grace Redbook's November cover, but her most striking pose is the centerfold image. In it, the first lady embraces five female veterans who are struggling to find work.
The women's magazine is centering its upcoming issue entirely around the female veteran employment crisis and Obama was the obvious face for the cause. Since entering the White House, the first lady has made supporting veterans a focal point of her advocacy work by growing her nonprofit, Joining Forces, taking a strong stance on vet homelessness and urging companies to hire former servicemen and servicewomen. Learn More*
---

Report Finds Serious Shortcomings in How VA Cares for Women Veterans
The Veterans Affairs Department and other government agencies are not doing enough to help women who served in the military, even as their number is rising dramatically, according to a new report.
The report, released Wednesday by the Disabled American Veterans, identified serious gender gaps in virtually every program serving veterans, including health care, job training, finance, housing, social issues and combatting sexual assault.
The advocacy group's report blamed most of the deficiencies on a disregard for the needs of female veterans, saying the VA and other agencies focus on "the 80 percent solution for men who dominate (veterans affairs) in both numbers and public consciousness." Learn More*
---

Women Veterans Are Veterans Too
My testimony was used to propagate the popular idea that veterans, especially females, are victims. We categorically are not.
I'd like to respond to the article "Female Vets Feel Left Behind" (U.S. News, Sept. 24) in which I was quoted. First, and most important, I am proud to have worn the uniform and to have served this great nation. My testimony was used to propagate the popular idea that veterans, especially females, are victims. We categorically are not. My struggle was one I went through for various reasons, just like everyone else who faces the difficulty of returning from war. Learn More*
---
Grand Opening Set for Women Veterans Health Center
The Dwight D. Eisenhower VA Medical Center, part of the VA Eastern Kansas Health Care System, announced the grand opening and ribbon-cutting ceremony of the new Women Veterans' Health Center is scheduled for Tuesday.
The ceremony will begin at 1 p.m. in the main hospital, Suite A-151 across from the main entrance. Following the ribbon cutting, tours will be conducted and refreshments served until 3:30 p.m. Learn More*
---

Women Veterans Retreat at East Manatee Seek Help in Transitioning to Civilian Life
Women who serve in the military may come home with problems that include the trauma of sexual assault, as well as post-traumatic stress syndrome from serving in combat -- and a reluctance to seek help.
A first-time retreat being held in East Manatee this week is helping 15 of them face their issues, and transition back into society. Learn More*
---
VA Medical Center Reaching Out to Women
The Robley Rex Veterans Affairs Medical Center has scheduled an open house for women veterans for Saturday from 10 a.m. to 1 p.m. near the west entrance of the hospital off Zorn Avenue. Learn More*
---

Women Veterans Conference to be Held in Spokane
Some 350 to 400 women veterans are expected Saturday in Spokane at the 2014 Women Veterans Summit to be held at the Convention Center.
The keynote speaker for the free conference is retired U.S. Army Brigadier General Rebecca Halstead. The conference will also include six workshops touching on the opportunities and challenges women veterans face today, along with providing information about benefits and services they might be entitled to, a news release from the Department of Veterans Affairs said. Learn More*
---

Volunteers' Efforts Benefit Haven House
When a local Bible study group was looking for a volunteer opportunity, a retired nurse from the Jack C. Montgomery VA Medical Center, Glenda Trammell, suggested the Haven House.
Since 1988, when the home at 2408 E. Broadway came under the supervision of the Jack C. Montgomery VA Medical Center, numerous local groups have given their time, talents and money to enhance this safe haven for women whose veteran family members are receiving treatment here. Learn More*
---

Women Veterans Feel Left Behind
When Devon Reyes returned from her first deployment to Afghanistan in 2009, she withdrew from family and friends.
"No amount of pamphlets or brochures would have enticed me to come out of my shell," said the Army veteran and mother of two, now 29 years old. She said she longed for camaraderie, but there was little opportunity to meet other female soldiers with similar experiences.
That isolation and lack of support... Learn More*
---

Free Conference for Women Veterans is Coming to Denver
Female veterans are one of the fastest-growing segments of the national veteran population, and Women Veterans of Colorado plans to help them at the group's annual conference, to be held Sept. 13.
The conference, called "Pathways to Self Sufficiency," is free and will offer nine different classes in three categories — self sufficiency, wellness, and employment — with special focus on female entrepreneurs, employment, financial literacy, and self care. Learn More*
---

State Agency Looking at Number of Women Veterans
From 1995 to 1998, Yvonne Betron served as a U.S. Marine.
But it wasn't until 2012, when she went to work for the Nevada Department of Veterans Services that she realized how many benefits were available for veterans in general and women in particular to help with housing, disability, emergency assistance, tax assistance and other issues.
Betron now is coordinator of the Nevada Women Veterans Advisory Committee and is trying to locate all the women in the state who have served in the armed forces so they can learn about benefits and other help. She hopes Nevada women veterans will fill out a survey the committee has devised to not only count them, but find out how they're doing and what they need. Learn More*
---

Oldest Woman Veteran Gets Trip to DC
At 108, Lucy Coffey has one final wish, and she's going to get it, even though plans for her flight to Washington, D.C., had to be changed.
The nation's oldest woman veteran will fly from San Antonio to Washington on an American Airlines flight Friday, tour the nation's monuments the next day and then go to the White House.
No one knows for sure, but it is possible that Coffey, a longtime San Antonian who holds two Bronze Stars for her service in the Women's Army Auxiliary Corps, will meet President Barack Obama. Learn More*
---

First Woman to Assume Command of Billings National Guard Troops
History will be made at the Montana Army National Guard Armory, 2915 Gabel Road, on Sunday when Maj. Renea Dorvall is formally installed as the first female commander of the 190th Combat Service Support Battalion.
Dorvall's installation marks the first time that a female has been appointed commander of one of the four deployable Montana Army National Guard battalions. Learn More*
---

Motivating Women Veterans to Start Businesses
Entrepreneurship often requires a creative approach, breaking new ground and coloring outside the lines. For this reason military veterans, accustomed to a strict chain of command and clear-cut rules and regulations, can find it difficult to make the transition to independent business ownership.
For women, it can be even harder--and their service numbers are significant. Women represent about 15 percent of today's active-duty military, 20 percent of reservists, 16 percent of the National Guard and 20 percent of new recruits, according to Syracuse University's Institute for Veterans and Military Families (IVMF). Learn More*
---

Babies at the VA: Lessons Learned from Maternity Care for Veterans
Historically, and with rare exception, the U.S. Department of Veterans Affairs provides care for veterans only , not their families. So, if a woman veteran gave birth, the VA covered the mom's medical bills, but not her baby's.
It took a lot of lobbying and an Act of Congress, but a few years ago newborns with veteran moms became eligible for up to seven days of hospital care. Learn More*
---

Women Veterans Face Own Struggles to Enter Civilian Workforce
Kate Logan wanted to get her hands dirty when she joined the U.S. Army in 2005. So the Oxford native became a diesel mechanic.

Fast forward eight years. Logan leveraged her military experience into a career that is just taking shape, as the mother of three (with a fourth on the way) wraps up a master's degree focused in health care.

She also still changes her own oil, she noted.

People often assume that after the shudder of mortar shells in Baghdad — the daily proving ground of a male-dominated workforce and marathon 15-month Middle East deployments — that a civilian life would be easy peasy.

They're wrong, Logan said. Learn More*
---

From Fatigues to Fabulous
Watch this YouTube video, From Fatigues to Fabulous as it celebrates women Veterans. Watch Here*
---

A Tribute to Women Veterans
Over 50 years ago, like many graduating high school seniors, I was preparing to enter U.S. military service the day before Memorial Day, also referred to as "Decoration Day." By tradition, as long as I can remember, the holiday was celebrated to pay tribute to military veterans who never returned home or were injured from their service.
This year, Memorial Day will take on a new twist locally. "Military Women" will highlight the agenda thanks to the efforts of the local planning committee, sponsors and the leadership of the Pueblo Veterans Council member organizations. Learn More*
---

Military Women Remember Veterans
Many women have served in the United States Armed Forces. And today, they are among those being remembered. About 59,000 women served as nurses behind the combat lines during World War II. "There was always a shortage of nurses wherever U.S. forces were. So, it's critical to bring forward and remember their service during war," says historian Cpt. Jeff Hoffer, North Dakota National Guard.Colonel Jackie Huber serves in the Army National Guard. She's the third woman to be named Colonel in the state. And she says it's important to remember the women who blazed a trail for military women.
Learn More*
---

California to Vote on Veterans Housing Programs
California voters weary of wading through a thicket of confusing state ballot measures in every election will get a welcome respite in the June primary.
A $600-million affordable housing program for veterans and a proposal that would require local governments to pick up the tab for public access to agency meetings and records are the only two statewide measures before voters.
The veterans housing measure — Proposition 41 — would allow the state to provide low-interest loans and other financial assistance to local governments, nonprofits and developers to provide affordable housing to veterans and their families. A portion of the funds would go toward providing transitional housing to homeless veterans. Learn More*
---

A Gap in Service Delivery for Women Veterans
With the Department of Veterans Affairs under scrutiny over allegations of treatment delays in several states, She The People wanted to get the lay of the land in terms of female veterans, who are among the fastest-growing segments of the veteran population. Learn More*
---

Tapping Hidden Talent Pools: How to Hire Women Veterans into Great Careers
According to U.S. Census data, while women comprise 10 percent of veterans, they comprise 13 percent of veterans in today's civilian workforce. Clearly, women veterans are succeeding in civilian careers despite the fact that they still face higher unemployment than male veterans and female non-veterans. Like their male counterparts, women veterans bring an incredible wealth of leadership, technology skills and experience to the civilian workforce. This is an untapped talent pool from which employers across the U.S can and should benefit.
How can we recruit female veteran job seekers if so many choose to remain incognito?
Create a safe environment for women veterans to share highlights about the skills and experience they attained during their military service.

Showcase photos and testimonials from women veteran employees in recruitment marketing materials. Use terminology such as "military service" in lieu of "veteran" which may resonate better with women who served.

Create communities to connect women veteran employees and engage them as recruitment ambassadors.

Dispel myths that hiring managers may have about the availability and qualifications of female veterans. Now you have the data to overcome the common objection of "but there aren't many women veteran applicants out there!"
---

Women Veterans to Get Dedicated Assistance
The state's female veterans will have a program and a liaison dedicated to their issues under a law that takes effect July 1.
Senate Bill 354 creates the Hoosier Women Veterans Program and authorizes the state to hire a coordinator to oversee the program.
The program is meant to help the more than 37,000 female veterans in Indiana learn about the services available to them and assess what special needs they might have.Learn More*
---

Women Vets: A Soldier's Story
Host Val Zavala brings you the story of Angie Peacock, an Army veteran who suffered from post traumatic stress disorder and sexual assault. Peacock talks about overcoming the various stages of her life while coping with addiction, depression, and a failed marriage.
In this 2009 "SoCal Connected" story, Peacock documents her journey as she enrolls in a specialized 12-week sexual trauma program called Renew at Long Beach Veterans Affairs. Learn More*
---

Michelle Howard Becomes Navy's First Female Four Star Admiral
The U.S. Navy has promoted Vice Adm. Michelle Howard to admiral, making her the first female four-star officer in the Navy's 236-year-history, the White House said Tuesday.
Howard, who was the first African-American woman to command a Navy ship, will become vice chief of naval operations, according to her online Navy biography.
"Her historic career is taking a next step today," White House spokesman Josh Earnest said. Learn More*
---

Years Home, Connecticut Women Iraq Veterans Endure Wounds of War
It's been nine years since Eunice Ramirez served in Iraq, but she still suffers from war wounds — post-traumatic stress disorder, depression, respiratory problems and frequent crying triggered by her memories.
Suzanna Smaldone, who also returned home from Iraq in 2005, lives in constant pain and can't bring herself to talk about her war injuries. Learn More*
---

Empowering Military Women When They Return Home
Video Clip: Veterans who started their own businesses after struggling to find work weigh in. Learn More*
---

VA Dedicates New Women's Clinic at Togus
Maine has more than 10,000 women who are military veterans, and they finally have a special clinic at the Togus VA hospital. The clinic was made official today, as veteran Ruby Gilmore –who served just after the Korean War – joined U.S. Sen. Susan Collins and Rep. Mike Michaud to cut the ribbon. Learn More*
---

Remember the Women Veterans
This is Army Week, the 239th anniversary of the Army's founding, and it offers an opportunity to recognize the extraordinary service of female veterans such as myself 2.2 million and counting and the unique challenges we face on active duty and after we leave the service. Women in the military services once were limited to support roles and not assigned to front line combat.
But while most women in uniform still occupy support roles — such as critically important jobs in aircraft maintenance, logistics and communications — the fact is that in modern wars like ours in Iraq and Afghanistan, there are no front lines. I am one of many female veterans who have been wounded in firefights and have returned home with physical and psychological injuries. There is nothing unusual about women in combat anymore. Learn More*
---

Green Fields: Women Veterans Can Learn About Farming
Iowa female veterans interested in farming can socialize with other vets, learn about programs that will help them overcome challenges and catch a screening of Terra Firma, a one-hour documentary featuring three female veterans who are now farming.
The Women, Food and Agriculture Network events are free and begin at 6 p.m. The events will be Tuesday at Easter Seals Iowa Camp Sunnyside, 401 N.E. 66th Ave., Des Moines and Wednesday at Veterans Memorial Coliseum, 50 Second Ave. Bridge, Cedar Rapids. Sonia Kendrick, a Cedar Rapids resident and one of the vets featured in the documentary, will be present at Wednesday's event. Learn More*
---

A Force Multiplier for Women Veterans
Local female military veterans will find a venue to air their concerns in September at a retreat geared specifically to their needs.
The retreat will be the first of its kind in Southwest Florida, organizers say, and the planning committee's military consultant Georgie Alfano hopes that it will not be the last.
Co-organized by the Sarasota County Veteran's Commission and nonprofit Professionals Assisting Military, Family, and Friends, the event will be a community effort.
Alfano first noticed a discrepancy in the way male and female veterans were treated when she began bringing her long-time boyfriend to events.
"People would shake his hand and not mine," Alfano said with disbelief. "At first, I didn't say a word, but after too many times, I would tell them, 'I'm the veteran, he never served.' " Learn More*
---

Veteran Sings Tribute to Women Veterans
I was raised in the small town of Gordon, Texas. I joined the Air Force when I was 17, and went to basic training two weeks after graduating from high school. I started out in law enforcement, but due to a shoulder injury in tech school, I had to cross-train into transportation.
My first duty station was Castle Air Force Base, California, nestled in the beautiful San Joaquin Valley. While at Castle, I served as the fleet analyst, and upon reenlistment, cross-trained into training management. I managed training for the 328th and 34th Bomb Squadrons. I loved seeing those big, beautiful, magnificent bombers take off and return.
As a training manager, I was not in a deployable position, but provided support at the base level. I lost friends in Desert Storm and did what I could to welcome others back home and provide support to the families left behind. While stationed at Castle, I started my little family with two children – a girl and a boy. This gave me such an appreciation and admiration for those who have had to leave their family behind. Learn More
---

Coordinator at the VA Talks About Veteran Services
Joy Finkelson, Military Sexual Trauma coordinator from the St. Cloud VA Health Care System, spoke at a recent Downtown Kiwanis Club meeting about the services offered for military personnel who were victims of sexual trauma and about the Clothesline Project.
Finkelson said that 1 in 5 women and 1 in 100 men have reported they were the victims of military sexual trauma. She said sexual assault in the military is more likely to result in symptoms of post-traumatic stress disorder than most other types of trauma. The VA offers free treatment for military sexual trauma-related mental and health conditions. Learn More*
---

Defending the Honor of Women in the Military
Women make up 8% of U.S. veterans, a number that is expected to double by 2035. Nyack's Anngela Vasser-Cooper is leading the charge to secure recognition and services for local women veterans. As part of that mission, Vasser-Cooper will mobilize a group from Hudson Valley to the Women in Military Service Memorial in Washington, DC on June 19.
You might be surprised by what the former medical social worker for the Veteran's Administration thinks about the resignation of Veteran's Secretary General Eric Shinseki. You will be shocked to learn the cause of one of the most devastating and recurring wounds suffered by women who serve our nation in uniform and the culprits inflicting that injury. Learn More*
---

York City Legislator Wants Study for Women Veterans
As a Veterans Affairs scandal plays out nationwide, a local lawmaker is among a group that wants to form a task force to study the health care issues unique to women veterans. While soldier health care is the purview of the federal government, Rep. Kevin Schreiber, D-York City, said the state Legislature could work with national legislators to further the findings of the study.
Schreiber plans to introduce a resolution — a counterpart to a Senate resolution — to create a group and issue a report by Nov. 30 on quality and access to health care.
The legislation was one of several initiatives unveiled Tuesday at the Capitol by the legislature's bipartisan Women's Health Caucus. The group announced its first phase of legislation last year, with Tuesday's attention locked on seven new measures that caucus co-chairman Rep. Dan Frankel, D-Allegheny, said focus on the goal of putting women's concerns before politics.Learn More*
---
HealthPOWER! Prevention News Spring 2014 Success Story Alice Sarmento
"A few years back, I'd lost a lot of weight by walking in a pool and eating right. More recently, I'd again lost some weight...'til I got sick and regained it while taking prednisone. I'd been having ongoing health problems and was on antibiotics and steroids, with no improvement. I went in to see Dr. Kimmel at the VA Sierra Nevada HCS at one point and was literally crying that I couldn't take it anymore—I was very frustrated. Later one morning, I got out of the shower and really looked at myself. I thought, 'this is it!'"
Shortly after the visit with Dr. Kimmel, I got my first call from my TLC Coach Rebecca, who said I'd been referred to the program. I started TLC in March 2012, and chose eating wisely and striving for a healthy weight as my Healthy Living goals.
The MOVE!® and TLC books worked for me because it was very helpful to have the materials there to refer to. Even though I've finished TLC, I still look at the books. Learn More

Veterans Talk About Women in Combat
In 2013 women became eligible for the same combat opportunities as men in the armed services. President Obama has advocated vigorously for women in combat, and the goal is for the Armed Services to fully integrate women into all spheres by January 1, 2016.
Recently the Veterans Office and Women's Center at Georgetown University co-sponsored a panel discussion on women in combat, which I had the honor to moderate. The panelists were Karen Courington, a former Air Force pilot who currently serves as an adviser to Senator Tim Kaine of Virginia on national security issues; Sasha-Maria Martin, a former Army staff sergeant and member of the military police corps, who is completing graduate studies at Georgetown in global politics and security studies; Samantha Dugan, a Naval aviator who became the first Aviation Lead for the Navy's Office of Women's Policy; and Robert Egnell, a visiting professor in the Georgetown University Security Studies program and a captain in the Swedish Army reserves. Learn More*

Working Woman: Local Non-Profit Reaches Out to Homeless Women Veterans
Today, Jaspen Boothe – also known as Jas – is going through clothes that will go to female veterans trying to get back in the work force.
Boothe's story begins in 2005, when she was about to be deployed to Iraq. In a devastating one-two punch, she lost everything in Hurricane Katrina, and then was diagnosed with cancer. She was medically discharged from the Army, and suddenly left homeless.
"It didn't seem fair," she said. "We've given just as much as our brothers and when we come back home and need that support, Americans should be just as willing to give us that support."
Boothe was shocked that while she felt male veterans has many services available to them, there were no programs for female vets with children. Learn More*

Champion of Change: Graciela Tiscareño-Sato
Daughter of Mexican immigrants, Graciela Tiscareño-Sato is CEO and Founder of Gracefully Global Group, LLC, which publishes award-winning, multicultural books and eBooks for K-college readers, showcasing positive contributions of highly-educated Latinos. She's won four international book awards for Latinnovating: Green American Jobs and the Latinos Creating Them; recently released Good Night Captain Mama/Buenas Noches Capitán Mamá, the first bilingual children's book about women serving in the military, was inspired by Graciela's service as an Air Force KC-135 navigator and instructor. Learn More*

LCC Panel Discussion, Film Screening to Address Challenges of Women Veterans
A panel discussion and a documentary screening "When Women Come Marching Home" at Lower Columbia College aims to raise awareness of women returning from combat.
"A lot of times, people don't really recognize women veterans as veterans," said Bryan Bales, LCC's veterans coordinator. "A lot of the events that are done are more focused on men. You'll see pictures of male veterans, you do a panel and it's male veterans. Women veterans don't get that recognition. We wanted to do something about that." Learn More*

Job Fair for Women Veterans Planned for May 16
The Women's Advisory Board for Oakland County will hold a free Women Veterans Job and Networking Fair from 11 a.m. to 3 p.m. Friday, May 16, at Oakland Community College's Auburn Hills Campus.Learn More*

Champion of Change: Deborah Scott Thomas
Deborah Scott Thomas retired as a Colonel from the United States Air Force Reserve in 2006, having served her country for three decades. She is the Founder, President and Chief Executive Officer of Data Solutions and Technology (DST) Incorporated, a management consulting firm located in Lanham, Maryland. For the past 20 years, Deborah has been respected for her business acumen and is considered a thought leader with expertise in building successful client teams while focusing on strategic operations and execution. She dedicates her time to educational and philanthropic causes, particularly Historically Black Colleges and Universities (HBCUs) and STEM (science, technology, engineering and math) initiatives. Learn More*

Helping Employers Connect to Job Seeking Service Members, Veterans and Their Families
First Lady Michelle Obama and Dr. Jill Biden joined the 101st Airborne Division (Air Assault) at Fort Campbell on Wednesday at a comprehensive Veterans Jobs Summit and Career Forum.
The First Lady and Dr. Biden's message was clear: our commitment to our service members and their families does not end when their service does, which is why they launched Joining Forces three years ago this month.
Since then, companies who have made commitments to Joining Forces have hired over half a million (540,000) veterans and military spouses. Commitments from America's biggest firms like UPS, who announced a doubling of their commitment to 50,000 new hires and Xerox who will has committed to hire 10,000 veterans and spouses over the next five years. Learn More*

Champion of Change: Coral Wong Pietsch
Coral Wong Pietsch serves as a judge on the United States Court of Appeals for Veterans Claims and has had a lifetime of distinguished public service at the state, national and international levels. She began her public service when she joined the military and served on active duty in the United States Army as a Judge Advocate. Later, she continued her service in the U.S. Army Reserve and rose to the rank of Brigadier General, becoming the first woman in the Judge Advocate General's Corps to be promoted to general officer and the first woman of Asian ancestry to be promoted to general officer in the Army. Learn More*

Champion of Change: Dana Niemela
Dana Louise Niemela, MSW, is a veteran of the United States Navy and the Coordinator of the Homeless Veterans' Reintegration Program (HVRP) for the Denver Department of Human Services. As the HVRP Coordinator, Dana has worked to create a substantial supportive services network throughout the Metro Denver Region to meet the needs of the hundreds of homeless veterans her program has served throughout her tenure. She has leveraged her relationships with community partners that include federal, state, and local governments, non-profit organizations and the private sector to increase employment opportunities, increase both access to funding and funding for behavioral health programs serving the military and veteran community, and provide veterans of all eras and socio-economic backgrounds access to community and service opportunities. Learn More*

Study to Help Women Vets Coping with MST
VA to launch study of Mindfulness-Based Stress Reduction this year to determine if it can help relieve symptoms of PTSD in women vets who have experienced military sexual trauma. Learn More

N.C. Governor Announces Women Veterans' Day
At an event focused on helping female veterans connect with any services and organizations they might need, North Carolina Governor Pat McCrory made several major announcements.
He told the audience attending the Inaugural Women Veterans Summit and Expo at the National Guard Joint Forces Headquarters that his proposed budget will include $1.8 million to make sure that all returning military members can pay in-state tuition prices for North Carolina community colleges, even if they're originally from out of state.
The governor also signed a proclamation declaring Thursday to be the first Women Veterans' Day in North Carolina. Learn More*

The Wars' Toll on Women Iraq and Afghanistan Veterans
Female veterans from Iraq and Afghanistan have returned from war facing heightened family and emotional strains compared with their male counterparts. A report by The Washington Post's Stephanie McCrummen about of a military sexual assault case highlights one of the unique challenges facing some female military service members, including family problems and worsened emotional health due to war.
Nearly a quarter of women who served in Iraq or Afghanistan reported a sexual assault, according to a study from the Department of Veterans Affairs. Female veterans have mixed views of whether the military is or is not doing enough to prevent sexual assault, by 50 to 48 percent. Men on the other hand, are more apt to say enough is being done by a 55 to 40 percent margin, according to a poll of Iraq and Afghanistan military service members conducted by The Post and the Kaiser Family Foundation. Learn More*

Women Veterans Embrace Alternative Therapies
Warm and friendly Amy Todisco of Waitsfield brought an abundance of energy to her free workshop about Pathways for Veterans Organic Farming and Healing pilot program happening at Hartshorn Farm this summer.
This workshop session was one of many held at the Women Veterans Wellness Retreat at the VA Burlington Lakeside Clinic Saturday. Yoga, massages, advice on spine health, exercise classes, and more were taught by a host of volunteer community practitioners. Learn More*

Champion of Change: Sonia Jo Kendrick
Sonia Kendrick was sent to to war in Afghanistan in 2003. There she experienced first hand what food insecurity looks like. She was surprised to come home to America and find that her state of Iowa had 400,000 food insecure people and that we import over 90% of our food. Sonia Kendrick earned a degree in Agronomy and is currently in progress on a master's degree of sustainable food systems. She sits on her county's food systems council, is a Sister of the Planet for Oxfam, helped found Iowa's Women's Veteran Farmer Coalition, founded Feed Iowa First, through which she has grown thousands of pounds of vegetables that she has donated to food banks and Meals on Wheels, and, most importantly, is the single mother of two girls. Learn More*

Trailblazing Female Veterans from WWII, Korea Honored
Kathy Zima-Sauer said she got in touch with 35 women veterans who lived in the Topeka, Lawrence, Junction City and Emporia areas and invited them to the "Celebrating Women of Character, Courage and Commitment: Women in Service from the Revolutionary War to Today" event.
Of the 35 who were invited, nine were able to attend the March 28th program, which featured a presentation on women in combat from the Revolutionary War to today; an address by Melissa Jarboe, founder of the Topeka-based Military Veteran Project; and a panel discussion featuring women who served in World War II, the Korean War, the Vietnam War, the Gulf War and Operation Enduring Freedom.
Zima-Sauer said the program was the first such event in Topeka that honored women who served in World War II and the Korean War. She said she was delighted at the turnout and the chance to "show our appreciation and gratitude" to the women.
During World War II and the Korean War, women served in a variety of capacities — from nurses to secretaries — in the Army, Air Force, Marines and Navy. Some served in the United States while others were sent abroad.
"They were trailblazers," Zima-Sauer said of the women following the program. "You can tell they are all still spunky. They have that can-do attitude." Learn More*

Champion of Change: Ellen Houlihan
Ellen Houlihan, is Vice-Chair, Board of Directors, West Point Association of Graduates (WPAOG). Ellen is the first West Point woman graduate to be elected to a senior leadership role of the 50,000 West Point graduate members. Her service includes leadership of the overhaul of WPAOG Bylaws and governance model, unchanged since the Civil War. The overhaul provides efficient and effective operational transparency of the Board of Directors and management staff. Learn More*

Champion of Change: Mary Johanna Forbes
COL (Retired) Mary Forbes graduated from the U.S. Military Academy in 1983, the U.S. Army War College in 2006, and served on active duty with the U.S. Army and the Washington Army National Guard for over 26 years. As the Assistant Director for Veterans Services for the Washington State Department of Veterans Affairs, Forbes champions the federal and state initiatives to end veteran homelessness. Her efforts have resulted in communities greatly expanding their capacity to serve homeless veterans and significantly reduced the number of homeless veterans in the state over the last 4 years. Learn More*

Champion of Change: Martha Daniel
Martha Daniel's 35 years career in Information Technology began during her time as a Cryptologist in the U.S. Navy and has spanned both corporate and government sectors. In 1992, she founded Information Management Resources, Inc. (IMRI), to provide technical support for the financial industry. Today, IMRI delivers comprehensive technical and engineering support services specializing in cyber security, data center operations and consolidations, program management, and telecommunications for the federal government and civilian agencies as well as the private sector. Learn More*

Washington, DC VAMC Opens Women's Clinic
VA Leadership and representatives were joined by city and state officials, Veterans, service organizations and community partners to cut the ceremonial ribbon marking the opening of the newly constructed Women's Health Clinic. Learn More*

Champion of Change: Erica Borggren
A Rhodes Scholar and West Point graduate, Erica Borggren currently serves as the Director of the Illinois Department of Veterans' Affairs (IDVA). There, she spearheaded the creation of Illinois Joining Forces (IJF), a statewide public-private network of nearly 200 organizations working together to better serve service members, veterans, and their families; a nationally awarded program, IJF serves to create a collaborative, "no wrong door" system of military and veteran support. Learn More*

VA Loma Linda Healthcare System: A Mile in Her Boots™
VA Loma Linda Healthcare System: A Mile in her Boots™ project will be displayed through the month of March 2014 and will be used in the future as a mobile art project to bring awareness and recognition of women Veterans honorable service (we do acknowledge and thank Volunteers of America Michigan for the inspiration because of its A MILE IN HER BOOTS™ program). Learn More*

White House Honors Women Veterans
On Tuesday, March 25, at 10:00 a.m. EST, the White House will celebrate Women's History Month by honoring 10 local leaders who are "Women Veteran Leader Champions of Change." The event will honor women Veteran industry leaders, highlighting their contributions to our nation's business, public and community service sectors.
You can join the White House, VA leadership, the Women's Health Service, and the Center for Women Veterans in celebrating these extraordinary women by watching this event live online at www.whitehouse.gov/live.* The event will be moderated by Assistant Secretary of VA Gina S. Farrisee and Elisa Basnight, Director of the VA Center for Women Veterans.
The Champions of Change program was created as an opportunity for the White House to feature individuals doing extraordinary things to empower and inspire members of their communities. To learn more about the White House Champions of Change program or to nominate a Champion, visit www.whitehouse.gov/champions.*

Women's History Month: Honoring Our Nation's Women Veterans
March is Women's History Month, and organizations across the country are celebrating the accomplishments of women throughout American history. Women Veterans are among the greatest contributors to that history, having served in every conflict since the American Revolution. This Huffington Post article honors the history of women Veterans and addresses some of the social and health issues they face in the present day. Read More » *

Jacksonville Honors Women Veterans with a Week of Festivities
Mayor Alvin Brown says the city of Jacksonville will honor its women in uniform. The mayor, along with the Northeast Florida Women Veterans Association, proclaimed this week (March 17 -23) as Women Veterans Recognition Week. Learn More*

VA and Women Veterans: Fielding a Full Team
Editor's note: This was originally posted on the White House Blog. On March 11, 2009, President Obama established the inter-agency White House Council on Women and Girls to ensure the programs and policies of the federal government are being crafted and implemented with the well-being of our women and girls at the forefront of our thinking and priorities. This post is part of a month-long series highlighting government-wide progress toward that goal. Read more posts here.*
In his State of the Union Address, President Obama declared, "We are stronger when America fields a full team." As we move to leverage the power of a fully represented "Team America," VA is advancing the cause of our 2.2 million women veterans.
Women veterans are one of the fastest-growing populations of veterans. Now 10 percent, by 2020, they will constitute more than 12 percent of all veterans.
America depends on the traits veterans embody — dependability, resourcefulness, diligence, a team focus, and a can-do attitude – to make good on the President's efforts to re-energize our economy. After serving our country in uniform, women veterans go on to serve our communities and our workplaces as a positive force for America's strong and growing middle class. Read More »


VA Reaches Out to Women Veterans
Bedford VA is trying to eliminate the "this is your grandfather's VA" perception by implementing new and innovative programs and activities, including some that specifically serve women. Bedford VA has a dedicated women's clinic provides primary care as well as gynecological, mental health and rehabilitation services. A lunch series gathers female veterans to discuss issues including positive recovery and self-esteem. Learn more here.*

Center for Women Veterans Opens in Old City
To better serve the growing number of women Veterans, officials opened Philadelphia's first Women Veterans Center. The new center already has 200 women enrolled in programs including health and wellness, credit counseling, networking, employment counseling, parenting after combat, yoga, and home ownership. The new facility represents a place of opportunity and support for women Veterans by providing private and dedicated space for gender-specific services. Learn more here*.

Mini-Residency Program Marks Marks Fifth Year of Training
This fall marked the fifth year of the successful mini-residency program sponsored by Women's Health Services (WHS) and Veterans Health Administration's Simulation Learning Education and Research Network (SimLEARN). Developed by women Veterans health clinical experts, the mini-residency program for primary care providers continues to further VHA's progress in reaching VA's goal of implementing comprehensive primary care for women at all VA sites, and over 1850 providers have been trained to date. "We launched these mini-residencies in 2008 as a way to proactively prepare our providers for the record influx of women Veterans," said Patricia Hayes, Chief Consultant, Women's Health Services. "I am thrilled that we have trained so many providers and see this as a major step towards having every woman Veteran who comes to VA seen by a provider who is both interested and proficient in women's health care." Read more here.

Watch SERVICE: When Women Come Marching Home
For the month of November, the documentary film SERVICE: When Women Come Marching Home will be available to stream here.*† The documentary highlights the special challenges of disabled women Veterans as they transition from active duty to civilian life, putting a spotlight on the largest growing group of Veterans today. To learn more about the film, click here.*†

Vietnam Nurses Discuss Service
Nurses who served in the 67th Evacuation Hospital in Vietnam reunited for a local news station to discuss their service in Vietnam and how it changed their lives. This short video clip sees them relive the honor of service, and what it means for them today. The video is available here*†.

A Tribute to Women Soldiers
On November 7th in Fort Lee, Virginia, the Army unveiled the first statue on an Army base that celebrates women soldiers and their service. As former 2nd Lt. Sonja Reiss, who was a member of the first integrated Women's Army Corps class at Fort Lee in 1950, said "This is well-deserved recognition." Read more here*†.

Columbus Ohio Nearly Doubles VA Women's Clinic Size
The Columbus Ohio VA Medical Center nearly doubled the size of their women's clinic. As Associate Director of VA's Center for Women Veterans Betty Moseley-Brown pointed out, this expanded facility should attract even more than the 2,000 women Veterans who currently utilize the clinic. Read more here*†.

Women Vets: A Battle All Their Own
In this recent Parade feature*†, two women Veterans discuss the changing face of the military and their experience serving and returning to civilian life. Women Health Services' own Deputy Chief Consultant for Clinical Operations and Director of Comprehensive Women's Health, Dr. Sally Haskell, stresses the focus VA is putting on culture change through increased professional training to automatic screening for military sexual trauma. "We are very much trying to improve the language, practice, and culture of the VA to make it more welcoming," Haskell says. Read more here*†.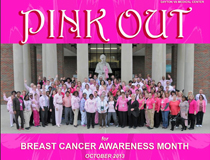 Pink Out Raises Awareness for Breast Cancer
Challenged by the Tuscaloosa VAMC to the fourth annual Pink Out, VAMC staff across the country wore pink for a day to raise breast cancer awareness for our women Veterans. Over a hundred photos were sent in commemorating the event, which you can find here. Martinsburg VAMC even made a time lapse video of their pink ribbon. Read more about the fourth annual Pink Out here.

Milwaukee VAMC Holds Breast Reconstruction Surgery Awareness Day
As the population of women Veterans grows, the number being treated for breast cancer continues to increase. In response, Milwaukee's Zablocki Veterans Affairs Medical Center is holding a reconstructive breast surgery awareness day to provide women Veterans with more information about the various breast reconstruction options VA offers. "We thought it was alarming that only 3 out of 10 women who go through mastectomies are told their options for reconstruction," said Sherry Wiesner, the nurse who is in charge of the plastic surgery clinic at Zablocki VAMC. "We're not trying to force anyone into breast reconstruction, but we're making them aware of their options." Read more here*†.

Kentucky VAMC Holds Open House for Women Vets
The Robley Rex VA Medical Center in Louisville, KY, is working to meet the unique needs of women Veterans through an open house aimed at publicizing the many VA resources available to women Veterans. The event, held September 14, showcased various VA benefits available to women Veterans, including those focused on maternity care and military sexual trauma, in the hopes that more women Veterans would take advantage of the resources available. Read more here*†.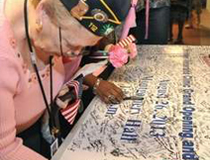 Women's Clinic Opening in Jackson, MS
On August 26th, the G.V. "Sonny" Montgomery Medical Center in Jackson, Mississippi, opened its Women's Clinic. The clinic, which is dedicated to primary care and gender-specific health care for women Veterans, hopes to better serve the fast-growing women Veteran population. "It is our charge that every eligible female Veteran in Mississippi who wants to receive VA health care will have that opportunity," said Joe Battle, director of the VA Medical Center. Read more here*†.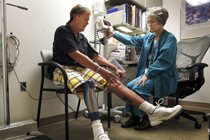 Female Vets Feeling Better About the VA
The article, "Female Vets Feeling Better About the VA", won first place at the VA Communication Awards Program in the Media Relations category for highlighting the growing need and success of women Veterans' clinics across the country. As Dr. David Weiner, who left private practice in order to join the Durham VA to help with women's care, put it, "I don't think the public knows what good care the patients are getting here." Read the award-winning article about the evolution of women Veterans care here*†.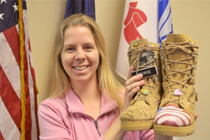 Female Vets Decorate Combat Boots to Raise Awareness
Volunteers of America Michigan invites Veterans to decorate a pair of combat boots for the new "Her Boots" campaign. The traveling exhibit of combat boots brings awareness to the service of female Veterans while also promoting the second Stand Down for Female Veterans day on September 16 (click here)*†. As VOAMI Employment Manager Heather Nystrom said, "My military service has played a big role in defining who I am. When decorating my boots, it did not take long to decide what parts of my service I wanted to express." Read more here*†.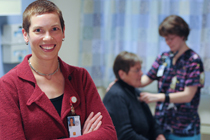 VA awards record number of grants for women's health improvements
VA recently announced it would invest more than $2 million for facilities to run projects to enhance their Women's Health programs in areas including tele-health, emergency services, and staff education. Learn what the Minneapolis VA plans to do with its three grants in their ongoing effort to improve their women's health program.*† Read about Salt Lake City's plans to revamp*† its emergency room.

Native American women Vets take part in presidential inauguration
The first Native American color guard composed of all female Veterans took part in the 2013 presidential inauguration parade. They are just a few of the scores of women Veterans who've made history. Read more and watch the clip.*†Stay tuned for more on women Veterans who have helped shape history during Women's History Month in March.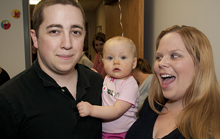 VA Salt Lake hosts birthday party for its first "VA baby"
The Salt Lake City VA recently held a 1st birthday party for Baby Alicia, the first baby born under VA Salt Lake's maternity program last January. In the last year, 41 more babies have been born under the Salt Lake program. Read the story and see photos.*†

Denver program provides shelter, stability for homeless female Vets
A collaborative effort between HomeAid Colorado, VA and Volunteers of America continues to add homes for homeless female Veterans in Denver. Read more and watch the clip.*†

New Child Care Center, Women's Health Clinic unveiled in Washington State
VA Puget Sound recently cut ribbons for its new Women's Health Clinic and pilot child care center at its facility in American Lake (Tacoma), Washington. Senator Patty Murray, Chairman of the Senate Veterans Affairs Committee, John E. Patrick, Interim Director of VA Puget Sound Health Care, and Dr. Patty Hayes, VA's national director of Women's Health Services celebrated both events. Learn more about Women's Health and child care services available at the American Lake VA.

New PSA lets women Veterans know they've come to "The Right Place"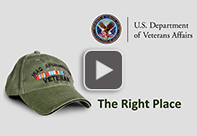 VA's latest PSA lets women Veterans know they've come to the right place when they choose VA health care. Listen*† to a recent interview on the topic with VA's national director of Women's Health, Dr. Patricia Hayes. Watch*† the video and learn more about VA's ongoing culture change campaign.

Veterans Day Celebrations Highlight Women; Female Vet Serves her Comrades
From Maine to Utah, Veterans Day events highlight women. Read*† about the Bay State's recent tribute, watch*† coverage of a celebration in Augusta, ME, and learn what Salt Lake City has planned to celebrate the contributions of women Veterans.
Meanwhile, one Florida female Vet is working on making a resource center for fellow women Veterans a reality. Read*† her story.

Baltimore VA Touts New Women's Clinic
The Baltimore VA has unveiled a new women's clinic for its growing population of female Veterans. Among other enhancements to better meet their needs, the hospital has added evening clinic hours and Saturday mammograms. Read*† the story.

Women's Memorial Celebrates 15th Anniversary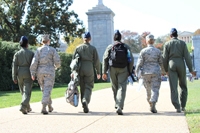 Female service members and women Veterans spanning generations gathered Saturday to celebrate the 15th Anniversary of the Women in Military Service for America Memorial at the foot of Arlington National Cemetery. Read*† coverage from the Washington Post. A candlelight march and remembrance ceremony rounded out the day's events. See photos*† from the march.
Another woman Veteran making history is Stacy Pearsall, an OEF/OIF Bronze Star recipient and photographer behind the Veterans Portrait Project.*† She was recently profiled on VA's The American Veteran. Watch*† a report on Capital Insider.

Wisconsin Women Veterans Program Manager Earns Top VA Honor in Social Work
Gail Gunter Hunt, the Women Veterans Program Manager in Madison, Wisconsin received the Under Secretary for Health's Excellence in Social Work Leadership Award. "She inspires staff through the organization toward a vision of sensitive and competent care for women Veterans," VA's social work newsletter, Synergy, reports on p.13 here (3.74 MB, PDF). Read more*† from the University of Wisconsin School of Social Work.

White River Junction VA Opens Women's Clinic
The Southern Vermont facility opened its doors on October 1 and delivers comprehensive primary care, including mental health services, to women Veterans five days a week. Read and watch coverage from New England Cable News,*† and the White River Junction Valley News.*†

VA raises Breast Cancer Awareness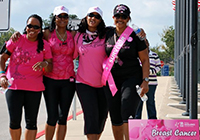 VA hospitals across the country participated in the annual pink out challenge in which employees wear pink and take photos in friendly contest to be the pinkest VA and raise breast cancer awareness. "Clinical staff are always very enthusiastic about participating in this event because it highlights attention on such an important healthcare issue for women Veterans," said one participant in New York. See photos from Tuscaloosa*† and Altoona.*† See the full Flickr gallery.*†

Women's Health Goes Red!
On Sept. 27, Women's Health staff joined other VA employees and women Veterans to raise awareness of heart disease, the #1 killer of women. The program featured fitness activities including Zumba® and other cardio classes, healthy cooking demonstrations, CPR instruction, informational exhibits about cardiovascular disease and ways to stay heart healthy, and more. This event supported VA's collaboration with the American Heart Association's Go Red For Women® movement to raise awareness of heart disease in women Veterans. See photos*† and read*† coverage of the event.

Leader of VA Women's Health Program Profiled for Advocacy, Achievements
Dr. Patricia Hayes, who leads VA's national Women's Health program office, was recently featured in the Washington Post as an "agent of change" for women Veterans. Read*† the story. Such change is evident in VA facilities around the country—the Hampton, Virginia facility has built a new women's clinic, which opens its doors to Veterans on October 1. Read*† coverage from the ribbon cutting ceremony.

WWII Female Army Veteran Turns 105
Alyce Dixon, a resident at the Washington, D.C. VA's Community Living Center, and World War II Veteran, recently celebrated her 105th birthday. Watch an interview*† and see photos.*†

VA Progress Evolving to Meet the Needs of Women Veterans
VA has made great progress transforming health care for women Veterans, Dr. Sally Haskell, the acting directory of comprehensive care for VA's national Women's Health program, recently told the American Legion's annual convention. "We feel like we've made tremendous progress," the Legion story quotes*† Dr. Haskell. "We know that we're not there yet—we acknowledge that. And we totally appreciate the work of The American Legion and other veterans service organizations that advocate for women veterans because we know there's a lot to do."

VA is Narrowing the Gender Gap in Health Care
According to two new VA reports, targeted efforts to improve health care for women Veterans are paying off. There's still more work to be done, but this is good news for women Veterans. Read the reports here.

Coverage of VA Efforts in Telemedicine, Women's Health Research
VA is increasingly using telemedicine to reach rural patients. Read*† a Salt Lake Tribune story, which highlights VA Salt Lake's use of tele gynecology to care for women Veterans.
VA providers recently gathered in Palo Alto, California for a Women Veterans' Research Roundtable. Hosted by the Under Secretary of Health, Dr. Robert Petzel, the roundtable focused on how research interacts with clinical care. Learn more.

VA, American Heart Association Team to Fight Heart Disease in Women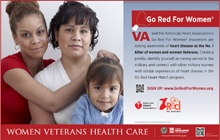 VA and the American Heart Association's Go Red For Women® movement are raising awareness of heart disease as the No. 1 killer of women and women Veterans through outreach. One tool available to women who have had experiences with heart disease is the Go Red Heart Match database. Women can visit the site*†, create a profile, indicate their military status and connect with others who have had similar experiences. Download a poster to help spread the word.
Learn more about the collaboration, or read coverage*† from the media kick-off event.

Director of VA's Women's Health Program Profiled for Career Achievements
Dr. Patricia Hayes, who leads VA's national Women's Health office, recently spoke with Federal News Radio about her work with VA: shaping the vision and policy direction for women Veterans, the changes under way across the system to better serve this rapidly growing population, the many efforts inside and outside VA to increase recognition of women Veterans, as well as her own nomination for a Service to America medal. Listen*† to the interview.

Northport VA Opens Pilot Childcare Program
VA staff and visitors at the Northport VA celebrated the opening of their new drop-off pilot childcare center, where patients can leave children during their VA appointments. The pilot program is VA's second; another site is up and running in Albany, with a third planned for the Puget Sound HCS in the coming months. Learn more about the Northport VA childcare center.

VA's Director of Women's Health is a Finalist for Career Achievement Award
Dr. Patricia Hayes, the Chief Consultant for VA's Women Veterans Health Care program, has been named a finalist for the prestigious Samuel J. Heyman Service to America Medal for Career Achievement. Dr. Hayes has spent the majority of her 29 years at VA advocating for women Veterans and improving the provision of VA health care services to them. The winners will be announced on September 13 at an awards event in Washington, DC.

*By clicking on these links, you will leave the Department of Veterans Affairs Web site.
†VA does not endorse and is not responsible for the content of the linked Web site.
return to top