Latest Headlines

Mini-Residency Program Marks Marks Fifth Year of Training
This fall marked the fifth year of the successful mini-residency program sponsored by Women's Health Services (WHS) and Veterans Health Administration's Simulation Learning Education and Research Network (SimLEARN). Developed by women Veterans health clinical experts, the mini-residency program for primary care providers continues to further VHA's progress in reaching VA's goal of implementing comprehensive primary care for women at all VA sites, and over 1850 providers have been trained to date. "We launched these mini-residencies in 2008 as a way to proactively prepare our providers for the record influx of women Veterans," said Patricia Hayes, Chief Consultant, Women's Health Services. "I am thrilled that we have trained so many providers and see this as a major step towards having every woman Veteran who comes to VA seen by a provider who is both interested and proficient in women's health care." Read more
here
.

Watch SERVICE: When Women Come Marching Home
For the month of November, the documentary film SERVICE: When Women Come Marching Home will be available to stream
here
.*† The documentary highlights the special challenges of disabled women Veterans as they transition from active duty to civilian life, putting a spotlight on the largest growing group of Veterans today. To learn more about the film, click
here
.*†

Vietnam Nurses Discuss Service
Nurses who served in the 67th Evacuation Hospital in Vietnam reunited for a local news station to discuss their service in Vietnam and how it changed their lives. This short video clip sees them relive the honor of service, and what it means for them today. The video is available
here
*†.

A Tribute to Women Soldiers
On November 7th in Fort Lee, Virginia, the Army unveiled the first statue on an Army base that celebrates women soldiers and their service. As former 2nd Lt. Sonja Reiss, who was a member of the first integrated Women's Army Corps class at Fort Lee in 1950, said "This is well-deserved recognition." Read more
here
*†.

Columbus Ohio Nearly Doubles VA Women's Clinic Size
The Columbus Ohio VA Medical Center nearly doubled the size of their women's clinic. As Associate Director of VA's Center for Women Veterans Betty Moseley-Brown pointed out, this expanded facility should attract even more than the 2,000 women Veterans who currently utilize the clinic. Read more
here
*†.

Women Vets: A Battle All Their Own
In this recent
Parade feature
*†, two women Veterans discuss the changing face of the military and their experience serving and returning to civilian life. Women Health Services' own Deputy Chief Consultant for Clinical Operations and Director of Comprehensive Women's Health, Dr. Sally Haskell, stresses the focus VA is putting on culture change through increased professional training to automatic screening for military sexual trauma. "We are very much trying to improve the language, practice, and culture of the VA to make it more welcoming," Haskell says. Read more
here
*†.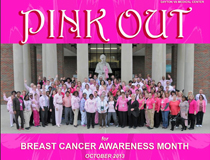 Pink Out Raises Awareness for Breast Cancer
Challenged by the Tuscaloosa VAMC to the fourth annual Pink Out, VAMC staff across the country wore pink for a day to raise breast cancer awareness for our women Veterans. Over a hundred photos were sent in commemorating the event, which you can find here. Martinsburg VAMC even made a time lapse video of their pink ribbon. Read more about the fourth annual Pink Out here.

Milwaukee VAMC Holds Breast Reconstruction Surgery Awareness Day
As the population of women Veterans grows, the number being treated for breast cancer continues to increase. In response, Milwaukee's Zablocki Veterans Affairs Medical Center is holding a reconstructive breast surgery awareness day to provide women Veterans with more information about the various breast reconstruction options VA offers. "We thought it was alarming that only 3 out of 10 women who go through mastectomies are told their options for reconstruction," said Sherry Wiesner, the nurse who is in charge of the plastic surgery clinic at Zablocki VAMC. "We're not trying to force anyone into breast reconstruction, but we're making them aware of their options." Read more
here
*†.

Kentucky VAMC Holds Open House for Women Vets
The Robley Rex VA Medical Center in Louisville, KY, is working to meet the unique needs of women Veterans through an open house aimed at publicizing the many VA resources available to women Veterans. The event, held September 14, showcased various VA benefits available to women Veterans, including those focused on maternity care and military sexual trauma, in the hopes that more women Veterans would take advantage of the resources available. Read more
here
*†.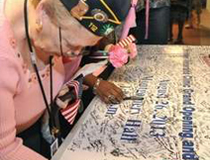 Women's Clinic Opening in Jackson, MS
On August 26th, the G.V. "Sonny" Montgomery Medical Center in Jackson, Mississippi, opened its Women's Clinic. The clinic, which is dedicated to primary care and gender-specific health care for women Veterans, hopes to better serve the fast-growing women Veteran population. "It is our charge that every eligible female Veteran in Mississippi who wants to receive VA health care will have that opportunity," said Joe Battle, director of the VA Medical Center. Read more
here
*†.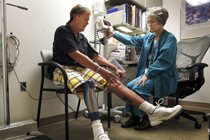 Female Vets Feeling Better About the VA
The article, "Female Vets Feeling Better About the VA", won first place at the VA Communication Awards Program in the Media Relations category for highlighting the growing need and success of women Veterans' clinics across the country. As Dr. David Weiner, who left private practice in order to join the Durham VA to help with women's care, put it, "I don't think the public knows what good care the patients are getting here." Read the award-winning article about the evolution of women Veterans care
here
*†.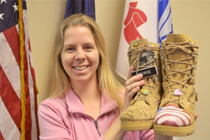 Female Vets Decorate Combat Boots to Raise Awareness
Volunteers of America Michigan invites Veterans to decorate a pair of combat boots for the new "Her Boots" campaign. The traveling exhibit of combat boots brings awareness to the service of female Veterans while also promoting the second Stand Down for Female Veterans day on September 16 (
click here
)*†. As VOAMI Employment Manager Heather Nystrom said, "My military service has played a big role in defining who I am. When decorating my boots, it did not take long to decide what parts of my service I wanted to express." Read more
here
*†.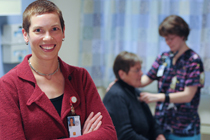 VA awards record number of grants for women's health improvements
VA recently announced it would invest more than $2 million for facilities to run projects to enhance their Women's Health programs in areas including tele-health, emergency services, and staff education. Learn what the Minneapolis VA plans to do with its three grants in their ongoing effort to improve their women's health program.*† Read about Salt Lake City's plans to revamp*† its emergency room.


Native American women Vets take part in presidential inauguration
The first Native American color guard composed of all female Veterans took part in the 2013 presidential inauguration parade. They are just a few of the scores of women Veterans who've made history. Read more and watch the clip.*†Stay tuned for more on women Veterans who have helped shape history during Women's History Month in March.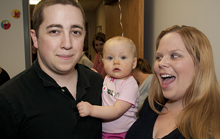 VA Salt Lake hosts birthday party for its first "VA baby"
The Salt Lake City VA recently held a 1st birthday party for Baby Alicia, the first baby born under VA Salt Lake's maternity program last January. In the last year, 41 more babies have been born under the Salt Lake program. Read the story and see photos.*†



Denver program provides shelter, stability for homeless female Vets
A collaborative effort between HomeAid Colorado, VA and Volunteers of America continues to add homes for homeless female Veterans in Denver. Read more and watch the clip.*†


New Child Care Center, Women's Health Clinic unveiled in Washington State
VA Puget Sound recently cut ribbons for its new Women's Health Clinic and pilot child care center at its facility in American Lake (Tacoma), Washington. Senator Patty Murray, Chairman of the Senate Veterans Affairs Committee, John E. Patrick, Interim Director of VA Puget Sound Health Care, and Dr. Patty Hayes, VA's national director of Women's Health Services celebrated both events. Learn more about Women's Health and child care services available at the American Lake VA.

New PSA lets women Veterans know they've come to "The Right Place"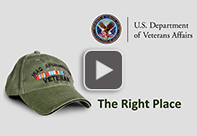 VA's latest PSA lets women Veterans know they've come to the right place when they choose VA health care. Listen*† to a recent interview on the topic with VA's national director of Women's Health, Dr. Patricia Hayes. Watch*† the video and learn more about VA's ongoing culture change campaign.


Veterans Day Celebrations Highlight Women; Female Vet Serves her Comrades
From Maine to Utah, Veterans Day events highlight women. Read*† about the Bay State's recent tribute, watch*† coverage of a celebration in Augusta, ME, and learn what Salt Lake City has planned to celebrate the contributions of women Veterans.
Meanwhile, one Florida female Vet is working on making a resource center for fellow women Veterans a reality. Read*† her story.

Baltimore VA Touts New Women's Clinic
The Baltimore VA has unveiled a new women's clinic for its growing population of female Veterans. Among other enhancements to better meet their needs, the hospital has added evening clinic hours and Saturday mammograms. Read*† the story.


Women's Memorial Celebrates 15th Anniversary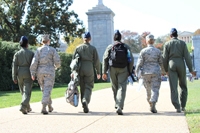 Female service members and women Veterans spanning generations gathered Saturday to celebrate the 15th Anniversary of the Women in Military Service for America Memorial at the foot of Arlington National Cemetery. Read*† coverage from the Washington Post. A candlelight march and remembrance ceremony rounded out the day's events. See photos*† from the march.
Another woman Veteran making history is Stacy Pearsall, an OEF/OIF Bronze Star recipient and photographer behind the Veterans Portrait Project.*† She was recently profiled on VA's The American Veteran. Watch*† a report on Capital Insider.


Wisconsin Women Veterans Program Manager Earns Top VA Honor in Social Work
Gail Gunter Hunt, the Women Veterans Program Manager in Madison, Wisconsin received the Under Secretary for Health's Excellence in Social Work Leadership Award. "She inspires staff through the organization toward a vision of sensitive and competent care for women Veterans," VA's social work newsletter, Synergy, reports on p.13 here (3.74 MB, PDF). Read more*† from the University of Wisconsin School of Social Work.


White River Junction VA Opens Women's Clinic
The Southern Vermont facility opened its doors on October 1 and delivers comprehensive primary care, including mental health services, to women Veterans five days a week. Read and watch coverage from New England Cable News,*† and the White River Junction Valley News.*†


VA raises Breast Cancer Awareness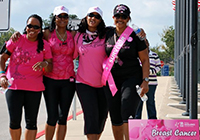 VA hospitals across the country participated in the annual pink out challenge in which employees wear pink and take photos in friendly contest to be the pinkest VA and raise breast cancer awareness. "Clinical staff are always very enthusiastic about participating in this event because it highlights attention on such an important healthcare issue for women Veterans," said one participant in New York. See photos from Tuscaloosa*† and Altoona.*† See the full Flickr gallery.*†


Women's Health Goes Red!
On Sept. 27, Women's Health staff joined other VA employees and women Veterans to raise awareness of heart disease, the #1 killer of women. The program featured fitness activities including Zumba® and other cardio classes, healthy cooking demonstrations, CPR instruction, informational exhibits about cardiovascular disease and ways to stay heart healthy, and more. This event supported VA's collaboration with the American Heart Association's Go Red For Women® movement to raise awareness of heart disease in women Veterans. See photos*† and read*† coverage of the event.


Leader of VA Women's Health Program Profiled for Advocacy, Achievements
Dr. Patricia Hayes, who leads VA's national Women's Health program office, was recently featured in the Washington Post as an "agent of change" for women Veterans. Read*† the story. Such change is evident in VA facilities around the country—the Hampton, Virginia facility has built a new women's clinic, which opens its doors to Veterans on October 1. Read*† coverage from the ribbon cutting ceremony.



WWII Female Army Veteran Turns 105
Alyce Dixon, a resident at the Washington, D.C. VA's Community Living Center, and World War II Veteran, recently celebrated her 105th birthday. Watch an interview*† and see photos.*†


VA Progress Evolving to Meet the Needs of Women Veterans
VA has made great progress transforming health care for women Veterans, Dr. Sally Haskell, the acting directory of comprehensive care for VA's national Women's Health program, recently told the American Legion's annual convention. "We feel like we've made tremendous progress," the Legion story quotes*† Dr. Haskell. "We know that we're not there yet—we acknowledge that. And we totally appreciate the work of The American Legion and other veterans service organizations that advocate for women veterans because we know there's a lot to do."


VA is Narrowing the Gender Gap in Health Care
According to two new VA reports, targeted efforts to improve health care for women Veterans are paying off. There's still more work to be done, but this is good news for women Veterans. Read the reports here.


Coverage of VA Efforts in Telemedicine, Women's Health Research
VA is increasingly using telemedicine to reach rural patients. Read*† a Salt Lake Tribune story, which highlights VA Salt Lake's use of tele gynecology to care for women Veterans.
VA providers recently gathered in Palo Alto, California for a Women Veterans' Research Roundtable. Hosted by the Under Secretary of Health, Dr. Robert Petzel, the roundtable focused on how research interacts with clinical care. Learn more.


VA, American Heart Association Team to Fight Heart Disease in Women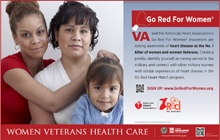 VA and the American Heart Association's Go Red For Women® movement are raising awareness of heart disease as the No. 1 killer of women and women Veterans through outreach. One tool available to women who have had experiences with heart disease is the Go Red Heart Match database. Women can visit the site*†, create a profile, indicate their military status and connect with others who have had similar experiences. Download a poster to help spread the word.
Learn more about the collaboration, or read coverage*† from the media kick-off event.


Director of VA's Women's Health Program Profiled for Career Achievements
Dr. Patricia Hayes, who leads VA's national Women's Health office, recently spoke with Federal News Radio about her work with VA: shaping the vision and policy direction for women Veterans, the changes under way across the system to better serve this rapidly growing population, the many efforts inside and outside VA to increase recognition of women Veterans, as well as her own nomination for a Service to America medal. Listen*† to the interview.


Northport VA Opens Pilot Childcare Program
VA staff and visitors at the Northport VA celebrated the opening of their new drop-off pilot childcare center, where patients can leave children during their VA appointments. The pilot program is VA's second; another site is up and running in Albany, with a third planned for the Puget Sound HCS in the coming months. Learn more about the Northport VA childcare center.


VA's Director of Women's Health is a Finalist for Career Achievement Award
Dr. Patricia Hayes, the Chief Consultant for VA's Women Veterans Health Care program, has been named a finalist for the prestigious Samuel J. Heyman Service to America Medal for Career Achievement. Dr. Hayes has spent the majority of her 29 years at VA advocating for women Veterans and improving the provision of VA health care services to them. The winners will be announced on September 13 at an awards event in Washington, DC.

*By clicking on these links, you will leave the Department of Veterans Affairs Web site.
†VA does not endorse and is not responsible for the content of the linked Web site.
back to top