Healthy Heart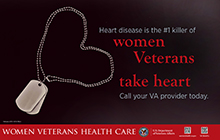 Healthy Heart Poster (421 KB, PDF)
Number: IB 10-316SM
Dimensions: 8.5" x 11"
Healthy Heart Poster (692 KB, PDF)
Number: IB 10-316LG
Dimensions: 11" x 17"
Heart Disease and Women
Heart disease is the leading cause of death of American women and women Veterans. It can also lead to disability and significantly decrease one's quality of life. Despite this, many women do not recognize heart disease as their leading health threat, and many women fail to make the connection between risk factors, such as high blood pressure and high cholesterol, and their personal risk of developing heart disease. African-American and Hispanic women in particular are at risk, with high rates of obesity, physical inactivity, high blood pressure, and diabetes. Learn more about ways to stay healthy and prevent cardiovascular disease from our colleagues at the American Heart Association's Go Red For Women® movement.*†
About Women Veterans
Women are now the fastest-growing subgroup of U.S. Veterans. The number of Women Veterans is expected to increase dramatically in the next 10 years, and VA health care services are in high demand by the Women Veterans of Operation Enduring Freedom, Operation Iraqi Freedom and Operation New Dawn. VA understands the health care needs of Women Veterans and is committed to meeting these needs. Women Veterans served and they deserve the best quality care. Learn more about VA health care services for women Veterans.
Activity Ideas
Offer free professional blood pressure screenings.
Offer free resting EKGs.
Make available medical professionals for consultations regarding heart disease and questions or concerns about the screenings.
Distribute heart healthy recipes.
Schedule a speaker or panel of speakers to discuss heart disease in women.
Wear red!
References
U.S. Department of Health and Human Service (HHS)'s Heart Truth Campaign
*
Learn more from the Centers for Disease Control and Prevention (CDC)
WISEWOMAN Campaign
.*
back to top
Download free viewer and reader software to view PDF, video and other file formats.
*By clicking on these links, you will leave the Department of Veterans Affairs Web site.