Attention A T users. To access the menus on this page please perform the following steps. 1. Please switch auto forms mode to off. 2. Hit enter to expand a main menu option (Health, Benefits, etc). 3. To enter and activate the submenu links, hit the down arrow. You will now be able to tab or arrow up or down through the submenu options to access/activate the submenu links.

Women Veterans Health Care
Chronic Pain
Chronic pain is a very real problem and a major concern for those who suffer from it. Unlike acute pain, chronic pain may last long after an injury has healed. For some people, chronic pain can occur even without a prior injury or trauma. Chronic pain is defined as pain lasting 6 months or longer that may limit daily life. For many, chronic pain can last years or even decades. Once pain is chronic, it is not likely that it will ever completely go away. Because of this, treatment strategies should be focused on learning to manage and live a full life with/or in spite of chronic pain.
Chronic pain is common among women Veterans. Chronic pain may include headache, back pain, arthritis, joint problems, fibromyalgia, and pelvic pain, among others.
Whatever the cause, chronic pain can interfere with your life. Specifically, chronic pain can:
make it difficult to work and perform everyday activities

contribute to irritability, depressed mood, or anger

interfere with sleep

prompt people to with draw from activities, friends or loved ones, or it may lead to increased conflict
make it hard to participate in physical activity, which can contribute to weight gain
create financial difficulties from lost wages or the high cost of medical treatments
Managing Chronic Pain
Chronic pain can affect many parts of life. Getting through the day may sometimes seem impossible. Many people with pain avoid activity because they fear their pain will worsen. In the case of chronic pain, too much rest can result in muscle loss, which makes pain worse. On the flip side, too much activity can increase pain. Stress, lack of sleep, weight gain and depressed mood can also increase pain.
Understanding how pain interferes with life can help people choose treatments that can reduce pain while improving functioning. Many different types of treatments may be helpful for people with pain. These include things like medications, injections, surgery, implantable nerve stimulators, pain self-management programs, and physical therapy, acupuncture, chiropractic care, yoga, meditation, relaxation, massage, aquatherapy, and biofeedback.
Medications include non-steroidal anti-inflammatory drugs (like ibuprofen), opiods, tramadol, and some anti-seizure or anti-depressant medications.
Injections like botulinum toxin and cortisone can be used to manage certain types of pain.
Cognitive Behavioral Pain Self-Management programs are usually provided by health psychologists. These programs teach relaxation skills, and other oping strategies to help people manage pain better and to deal with the difficult emotions that can occur when people have pain. They also address sleep problems and are sometimes offered together with physical therapy.
Physical Therapy can help people with chronic pain find a physical activity program that is gentle, moderate, and right for the individual. Types of physical therapy that may help pain include:

heat treatment - hot water baths, heating pads, high-frequency sound waves to produce gentle heat deep in your tissues

cold treatment - ice packs, ice baths, ice massage

gentle stretching

muscle-strengthening

body mechanics

vibration therapy - a probe is applied to a part of your body with moderate pressure and vibrated several thousand times per second

Chiropractic care involves hands-on manipulation of the body as a means to properly align the spine and to restore mobility to joints.
Acupuncture involves the placement of small needles into the skin at various points in the body.
Yoga involves breath control, meditation, and a series of physical poses. Yoga can help strengthen muscles, improve functioning, reduce stress and improve mood.
Meditation teaches awareness techniques to relax the body and quiet the mind. It has been found to help reduce pain, improve mood, and decrease stress.
Massage involves applying pressure to specific points on the body. It can help resuce stress and muscle tension which can reduce pain.
Relaxation treatments come in many forms (imagery, progressive muscle relaxation, deep breathing). These exercises reduce the stress and muscle tension that are common with pain.
Aquatherapy is a water based type of physical therapy. Exercises are done in a pool usually with the help of a specially trained physical therapist.
Biofeedback is useed to learn how to control body functions such as muscle tension and other bodily responses to stress. Electrical sensors provide information about physical signals such as increases in heart rate, muscle tension or skin temparture.
*Not all therapies are available at all VA Medical Centers, and certain therapies may not be appropriate for all conditions. Talk to your provider to determine which approaches are best for you. If a given therapy is not available at your Medical Center, ask your provider or your Women Veteran Program Manager if similar care may be accessed in your community.
Chronic Pain
---
Chronic Pain Poster:
Dimensions: 11x17", (1.9 MB, PDF)
Dimensions: 8.5x11'', (1.0 MB, PDF)
Dimensions: 11x17", (1.9 MB, PDF) - with contact
Dimensions: 8.5x11", (1.0 MB, PDF) - with contact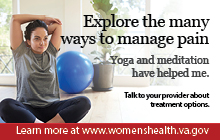 Additional Resources
The Healthy Woman: A Complete Guide for All Ages
National Institute of Arthritis and Musculoskeletal and Skin Diseases, Information Clearinghouse, NIH
National Institute of Neurological Disorders and Stroke, NIH
American Chronic Pain Association
U.S. Department of Veterans Affairs
Veterans Health Administration
About Women Veterans
Women are now the fastest-growing subgroup of U.S. Veterans. The number of women Veterans is expected to increase dramatically in the next 10 years, and VA health care services are in high demand by the women Veterans of Operation Enduring Freedom and Operation Iraqi Freedom. The Department of Veterans Affairs understands the health care needs of women Veterans and is committed to meeting these needs. Women Veterans served and they deserve the best quality care. Learn more about VA health care services for women Veterans.
Download free viewer and reader software to view PDF, video and other file formats.
return to top