Attention A T users. To access the menus on this page please perform the following steps. 1. Please switch auto forms mode to off. 2. Hit enter to expand a main menu option (Health, Benefits, etc). 3. To enter and activate the submenu links, hit the down arrow. You will now be able to tab or arrow up or down through the submenu options to access/activate the submenu links.

Women Veterans Health Care
Lung Health
The number of U.S. women diagnosed with lung disease is steadily increasing. There is growing evidence that some lung diseases affect women differently and with greater severity.
Three of the most common lung diseases in women are asthma, chronic obstructive pulmonary disease (COPD), and lung cancer.
Asthma is a chronic disease of the airways in the lungs. The airway walls become inflamed and can be triggered by smoke, air pollution, mold, chemical sprays, and allergens. When the airways overreact, they become narrower, making the flow of air in and out of the lungs difficult, causing breathing problems.
Chronic Obstructive Pulmonary Disease (COPD) includes both chronic obstructive bronchitis and emphysema. Both diseases limit airflow in the lungs, making breathing difficult. Limited airflow can occur because the airways lose elasticity or create excess mucus causing clogging, or airway walls become thick and inflamed.
Women are more susceptible to symptoms of COPD because of their anatomy—i.e. smaller lungs causing irritants like cigarette smoke to enter the lungs at a higher concentration. Women tend to develop COPD at younger ages, and with shorter smoking histories than men. Rates of COPD among women have been increasing and since the year 2000 women are more likely to die from COPD than men.
Lung Cancer is a disease in which abnormal lung cells multiply and grow uncontrollably. These cancerous cells can invade nearby tissues, spread to other parts of the body, or both. The two most common types of cancer—small cell lung cancer and non-small cell lung cancer—are usually linked to smoking. Lung cancer kills more women in the U.S. than any other type of cancer.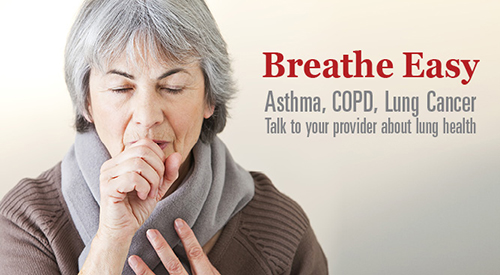 Reduce Your Risk
Stop smoking. Smoke from cigarettes, cigars, and pipes is the number one cause of lung disease. If you smoke, the most important thing you can do is stop. If you live or work with a smoker, avoid secondhand smoke.
Get screened. People who have smoked for many years may want to think about screening for lung cancer with low-dose computed tomography (LDCT). Talk to your doctor about lung cancer screening and the possible benefits and harms. Lung cancer screening is not a substitute for quitting smoking.
Test for radon. This colorless, odorless gas is present in many homes and is a recognized cause of lung cancer. You can check for radon with a kit bought at many hardware stores. Contact your state radon program for information on how to obtain a test kit from a radon measurement professional. Some states also offer free or discounted test kits to the public. The U.S. Environmental Protection Agency offers information on how to deal with radon.


Asbestos. This natural mineral fiber is used in insulation, fireproofing materials, car brakes, and other products. Asbestos harms lung cells, causing lung scarring and lung cancer. Limit exposure and use precautions such as special breathing masks that filter asbestos dust from the air.


Protect yourself from dust and chemical fumes. Working in dusty conditions and with chemicals can increase your risk of lung disease. Industrial chemicals and many products used at home, like paints and solvents, can cause or aggravate lung disease. Read labels and carefully follow instructions for use.
Take Action
Get tested early. Early detection greatly increases the chance of successful treatment. Early signs of lung disease are easy to overlook. Being constantly out of breath, having a chronic cough (especially with mucus), wheezing and/or chest tightness are symptoms that should be taken seriously.
If you are a woman Veteran who smokes, VA understands the challenges of quitting and the benefits you and your loved ones will experience if you become tobacco free.
Check out these resources:
Download Lung Health Poster
Dimensions: 11x17 (PDF)
Dimensions: 8.5x11 (PDF)
Dimensions: 16x9 (JPG)

Download Lung Health Poster with Fillable Contact Field
Dimensions: 11x17 (PDF)
Dimensions: 8.5x11 (PDF)


Download free viewer and reader software to view PDF, video and other file formats.
*By clicking on these links, you will leave the Department of Veterans Affairs Web site.
†VA does not endorse and is not responsible for the content of the linked Web site.
return to top