Attention A T users. To access the menus on this page please perform the following steps. 1. Please switch auto forms mode to off. 2. Hit enter to expand a main menu option (Health, Benefits, etc). 3. To enter and activate the submenu links, hit the down arrow. You will now be able to tab or arrow up or down through the submenu options to access/activate the submenu links.

Women Veterans Health Care
Thyroid Awareness
Have you been feeling tired, gaining weight, or feeling depressed? Have you been losing weight without trying to, feeling jittery, and having trouble sleeping?
These types of symptoms can be caused by many different things, including thyroid conditions. If you have these symptoms you should discuss them with your primary care provider to see if you need to get your thyroid checked. The thyroid is a gland in your neck that controls your body's rate of metabolism. Women are up to 5 times more likely than men to have a thyroid condition.
January is National Thyroid Awareness Month, and VA Women's Health Services wants to make you aware of thyroid conditions – how they can affect your health and when to ask your provider about getting a thyroid check. Thyroid conditions are very common among women. A national U.S. healthcare quality survey found that about 13 million women ages 18 years and older received treatment for a thyroid disorder in 2008. Of women Veterans who used VA healthcare services, 6.6% of women ages 18-44 years, 15.2 % of women ages 45-64 years, and 23.3 % of women age 65 years and older received a diagnosis of a thyroid condition 2012.
There are two main kinds of thyroid disorders, hyperthyroidism (overactive thyroid) and hypothyroidism (underactive thyroid).
Hyperthyroidism, or an overactive thyroid, is caused by the thyroid gland producing more thyroid hormones than the body needs. Hyperthyroidism is commonly caused by Graves' disease, Thyroid Nodules, Thyroiditis, or some medications. Symptoms of hyperthyroidism include:
Weight loss
Diarrhea
Palpitations
Feeling anxious or jittery.
Increased sweating
Feeling hot
Trouble sleeping
Changes in your period (usually lighter)
Treatment options include anti-thyroid medicines, radioactive iodine, or surgery.
Hypothyroidism, or an underactive thyroid, occurs when the thyroid gland does not make enough thyroid hormones. Hypothyroidism is most commonly caused by Thyroiditis, having the thyroid removed, radioactive iodine treatment, and some medications. Symptoms appear gradually and include:
Weight gain
Feeling Cold
May reduce your risk for osteoporosis later in life.
Constipation
Depression
Fatigue (feeling very tired)
Hair Loss
Changes in your period (usually heavier)
Treatment is taking thyroid medication (a pill) daily to provide your body with the right amount of thyroid hormone.
Thyroid Cancer can sometimes occur in thyroid nodules although most thyroid nodules are benign. Thyroid cancer is more common in people who have a family history of thyroid cancer, are older than 40 years old, and have had a large amount of exposure of the thyroid to radiation. This type of cancer is treated by surgery and radioactive iodine.
Thyroid disorders and Pregnancy
Hyperthyroidism and hypothyroidism can make it more difficult for women to become pregnant and can also cause problems during pregnancy if they are not treated. Pregnant women with thyroid conditions take medications to keep their thyroid hormone levels in the normal range during pregnancy. It is important for pregnant women to have their thyroid checked to see if the medication dose needs to be adjusted. Thyroid hormone levels that are too high or too low during pregnancy increase the risk for harm to a mother and her developing baby. If the thyroid levels are controlled during pregnancy women with thyroid problems will have normal healthy babies.
If hyperthyroidism is not properly treated during pregnancy, women have an increased risk of:
Miscarriage
Heart failure
Preeclampsia
Early (preterm) labor and birth
Stillbirth
Baby with a low birth weight
Increased heart rate in the developing child
Baby with thyroid problem or goiter
If hypothyroidism is not properly treated during pregnancy, women have an increased risk of:
Preeclampsia
Anemia
Baby with a low birth weight
A lower IQ in the baby
Too much bleeding after delivery (postpartum hemorrhage)
Thyroid disorders and breastfeeding
Women treated with medication for overactive and underactive thyroid disorders are able to breastfeed their infants normally.
How are thyroid disorders diagnosed?
Thyroid disorders are sometimes hard to diagnose, because symptoms of over-active and under-active thyroid may be similar to those associated with aging, depression, or other life events. If you report symptoms to your provider that could be due to a thyroid condition, your provider will start by taking a complete medical history to learn more about your symptoms and yourfamily history. Then, your provider will examine the size and shape of your thyroid to see it is enlarged and if there are any nodules (bumps). Depending on your symptoms and your exam, your provider may order blood tests. Based on your physical exam and the results of your blood tests further testing such as a thyroid ultrasound or thyroid scan might be indicated.
Further Resources:
Health Awareness Campaigns: Overactive Thyroid Poster
Dimensions: 11x17", (966 KB, PDF)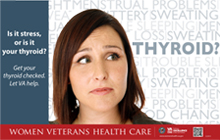 11x17'', (1.2 MB, PDF)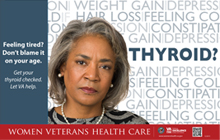 Download free viewer and reader software to view PDF, video and other file formats.
*By clicking on these links, you will leave the Department of Veterans Affairs Web site.
†VA does not endorse and is not responsible for the content of the linked Web site.
return to top