Attention A T users. To access the menus on this page please perform the following steps. 1. Please switch auto forms mode to off. 2. Hit enter to expand a main menu option (Health, Benefits, etc). 3. To enter and activate the submenu links, hit the down arrow. You will now be able to tab or arrow up or down through the submenu options to access/activate the submenu links.

Women Veterans Health Care
Family Planning
VA knows that some women Veterans want to prevent pregnancy… at least for now. VA offers a wide-variety of birth control options including implants, intrauterine devices (IUDs), shots, pills and barrier methods. Women Veterans who are interested in preventing pregnancy should talk to their VA provider to determine the best birth control option for their lifestyle. If your contraception fails or you have unprotected intercourse, VA offers emergency contraception options to reduce your risk for an unplanned pregnancy.
Things to think about when choosing a birth control method include: future pregnancy plans, your relationship or partner status, and your general medical health. It is important to tell your provider about your medical history, as certain conditions or medications may make some birth control methods better options than others. Some birth control methods (contraceptives) offer other health benefits in addition to pregnancy prevention and planning. Certain birth control methods can help you have a regular menstrual cycle, reduce menstrual flow, reduce acne, reduce cramps, or lower your risk of ovarian cancer.
Type of Contraception

Pregnancies among 100 women in 1 year

Facts

Sterilization


Tubal ligation
Tubal implant
Vasectomy (for male partner)




Less than 1

Sterilization procedures are permanent. Only choose sterilization when you are certain that you do not want another pregnancy now or in the future.

IUD

Copper-T IUD
LnG progesterone IUD




1





Less than 1

Inserted by a provider in the office. Highly effective and good for 10 (copper T) or 5 years (LnG). Have removed when ready for pregnancy.

Progesterone implant

Less than 1

One soft rod placed under skin of upper arm by a provider in the office. Good for 3 years. Have removed when ready for pregnancy.

Progesterone shot

1

Provider gives shot once every 3 months. Return to regular periods can take a long time. Choose a different method if you are planning pregnancy in the next 1-2 years.

Hormone methods with estrogen and progesterone
(pill, patch ring)

5

Take a pill once a day at the same time OR place a patch once
a week on your skin OR place a soft silicone ring in the vagina once a month and remove after 3 weeks. All require a prescription from your provider.

Barrier methods

Diaphragm
Cervical cap*‡
Sponge‡
Female condom
Male condom
Spermicides




15
17-23
6-32
20
11-16
30

Barrier methods are the least effective at preventing pregnancy. To work, they have to be used with every act of sexual intercourse. Using two barrier methods together (like a condom with a diaphragm or sponge) provides better pregnancy protection.
*Must be used with spermicide and must be left in place for 6 hours after sex.
‡With these methods, higher rates of pregnancy occur in women who have had a baby before.
Long-Acting Reversible Contraceptives

For women Veterans who are not ready to begin a family, there are plenty of birth control options. However, not all birth control methods are made equal. Among the most recommended birth control methods are long-acting reversible contraceptives (LARCs).
LARC methods include the intrauterine device (IUD), the hormone injection, and the implant. These methods last for an extended period, up to several years. If pregnancy is desired, the LARC methods may be stopped at any time. When it comes to preventing pregnancy, LARCs are over 99 percent effective.
What types of LARCs are there?
IUD
T-shaped device containing either copper or progestin that is put into the uterus (womb) by a healthcare provider.
Stops sperm from reaching the egg, from fertilizing the egg, and may prevent the egg from attaching in the uterus.
Can be used for 3-10 years, depending on the device.
Over 99 percent effective.
Implantable Rod (The Implant)
A thin, matchstick-sized rod that contains the progestin hormone. It is put under the skin on the inside of your upper arm.
Stops the ovaries from releasing eggs and thickens the cervical mucus, which keeps sperm from reaching the egg.
The implant can last for up to three years.
Over 99 percent effective.
Injection (The Shot)
An injection of the hormone once every three months.
The injection is often given by a health care professional, but at some clinics there is training to teach you or a friend to give the injection at home.
Prevents ovulation and works by making cervical mucus thicker and the uterine lining thinner. When the mucus on the cervix is thicker, the sperm can't reach the egg. Thin uterine lining causes menstrual cycles to be very light or even absent, which is a side-benefit many women like.
94 percent effective.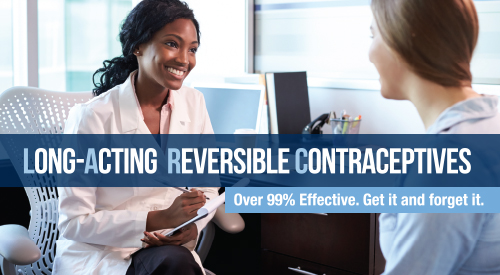 Are LARCs a good choice for you?
There is no "best" method of birth control for every woman. The birth control method that is right for you and your partner depends on many things, and may change over time. LARCs have many benefits:
Get it and forget it. Once it is in place, you do not have to do anything else to prevent pregnancy.
Very effective. LARCs are over 99% effective at preventing pregnancy. Over the long term, LARCs are 20 times more effective than birth control pills, the patch, or the ring.
No hassle. There are no prescriptions to pick up at the pharmacy
Nearly invisible. It does not interfere with sex or daily activities.
Total privacy. No one can tell when you are using birth control.
100% Reversible. If you want to get pregnant, simply remove the LARC.

Things to consider when choosing a birth control method.
When choosing a birth control method, it is important to discuss with your provider when and if you want to have children in the future. You should also talk about safe methods considering your current health, how effective each method is at preventing pregnancy, and whether a method makes sense for your lifestyle.
Talk to your VA provider about contraception care.
VA offers contraception care. Speak to your provider about which methods are best suited for you.
VA medical centers have a Women Veterans Program Manager to help women Veterans access VA benefits and health care services. To find the VA medical center or Vet Center nearest you, call 1-877-222-8387 or visit www.va.gov/directory.
Women Veterans can call 1-855-VA-WOMEN (1-855-829-6636) to ask questions about available VA services and resources.Learn more about birth control methods here.

For more information:
VA, Women's Health - Maternity Care
HHS, FDA - Birth Control Chart
HHS, Office of Women's Health - Birth Control Methods
VA, Women's Health - Birth Control Methods
CDC, How effective is birth control methods?
Long-Acting Reversible Contraceptives
Dimensions: 11x17", (PDF)
Dimensions: 8.5x11", (PDF)
Dimensions: 16x9", (JPG)

Long-Acting Reversible Contraceptives with Contact
Dimensions: 11x17'', (PDF)
Dimensions: 8.5x11'', (PDF)




Download free viewer and reader software to view PDF, video and other file formats.
*By clicking on these links, you will leave the Department of Veterans Affairs Web site.
†VA does not endorse and is not responsible for the content of the linked Web site.
return to top