Attention A T users. To access the menus on this page please perform the following steps. 1. Please switch auto forms mode to off. 2. Hit enter to expand a main menu option (Health, Benefits, etc). 3. To enter and activate the submenu links, hit the down arrow. You will now be able to tab or arrow up or down through the submenu options to access/activate the submenu links.

Women Veterans Health Care
Postpartum Depression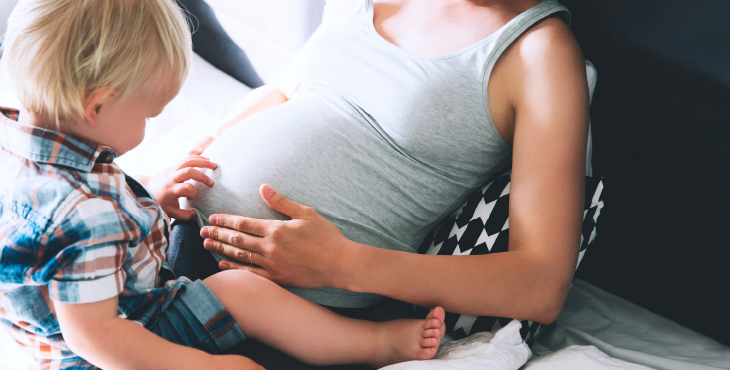 Mental health problems during and after pregnancy can cause confusion, disappointment and stress at a time when women feel pressure to be happy and celebratory. Many women find the transition into parenthood challenging and may even find it difficult to feel happy and connected to children when experiencing mental health symptoms.
It is important for women Veterans to know that mental health issues are treatable and not their fault. Many women experience mental health symptoms at some point in their lives. Experiencing issues with mental health does not mean a woman is weak or a bad parent. Many loving, effective parents have mental health issues and learn to cope with them.
About one in seven women has depression after giving birth. These rates may be even higher in women Veterans. For about half of these women, this is their first time dealing with depression. Anxiety symptoms during and after pregnancy are also common.
Anyone can develop a mental health condition during or after pregnancy. Women are more likely to develop one if they have experienced:
A personal or family history of mental health conditions
Prior trauma
Stressful life events
Limited social support
Women who develop depression during or after pregnancy may:
Feel sad or numb
Have difficulty concentrating or completing tasks
Feel "robotic," like they are going through the motions
Have thoughts like, "This is my fault" or "I'm a bad mother"
Not be as interested in activities they used to enjoy
Have difficulty having loving feelings towards others
Notice scary, upsetting thoughts, including thoughts about harming their babies
Women with a history of trauma may also find aspects of pregnancy, labor, breastfeeding and parenting upsetting because of increased trauma reminders.
Fortunately, these symptoms are treatable. VA knows it can be hard to talk about mental health issues, especially during or after pregnancy. VA providers try to help women Veterans feel supported during these conversations. VA can also recommend treatments to prevent mental health problems during and after pregnancy. Reach out to VA for help managing mental health issues before, during and after pregnancy. Your VA provider will work with you to identify a plan and solutions that will meet your needs.
Maternal Mental Health
Dimensions: 11x17", (PDF)

Dimensions: 8.5x11", (PDF)
Dimensions: 16x9", (JPG)

Maternal Mental Health with Contact
Dimensions: 11x17'', (PDF)
Dimensions: 8.5x11'', (PDF)



Postpartum Depression
The birth of a baby is a life changing event that can trigger all kinds of emotions from happiness and joy to jitters and fear. It can also lead to something you might not expect — postpartum depression.
Postpartum depression — a depression that occurs after having a baby — is the most common complication of giving birth. Postpartum depression affects 1 in 7 new mothers. Left untreated, postpartum depression can have long-lasting negative results, harming the health of new mothers, their babies, and their families.
Many women have the "baby blues," after giving birth, which are feelings of worry, sadness, and tiredness that usually last a few days. Symptoms of postpartum depression are like those of "baby blues," however, postpartum depression symptoms are more intense and can last for many months.
Women Veterans commonly suffer from depression, anxiety, and posttraumatic stress disorder after military service. Veterans who become pregnant have an increased likelihood of having a mental health issue, which puts them at a higher risk for postpartum depression. With more women serving in the military than ever before, it is important to support women Veterans by providing information and treatment options.

Let VA help

Postpartum depression is never anyone's fault. Pregnancy, childbirth, and caring for a child can be a challenge for all parents, physically and mentally. Postpartum depression affects more than half a million American women each year. Postpartum depression can affect any woman who becomes pregnant — women with easy pregnancies or difficult pregnancies, first-time moms and mothers with one or more children, women who are married and women who are not, and women of any age, race, ethnicity, culture, education, or income.
Only about 15 percent of women who suffer from postpartum depression receive professional care. There are many reasons that women do not seek treatment, including misdiagnosis, denial, and lack of health care access.
Postpartum depression can begin anytime within the first year after giving birth. Signs you have postpartum depression may include extended periods (two weeks or more) of:
Feeling sad, down, or depressed
Losing interest in what you usually enjoy
Experiencing difficulty in thinking or decision making
Loss of appetite
Experiencing a loss of energy
Frequently thinking about death or suicide

If you think you may have postpartum depression, seek help right away.
VA and Women's Health Services offers many care options to help you get treatment for postpartum depression:

Make The Connection. Kim, an Air Force Veteran, shares her experience with postpartum depression that went undiagnosed for years.
Women Veterans Call Center. Chat online or call 1-855-VA-WOMEN (1-855-829-6636) Monday through Saturday to get help about VA benefits and services, including postpartum depression treatment.
Veterans Crisis Line. Chat online, send a text to 838255, or call 1-800-273-8255 and Press 1 to receive confidential support 24 hours a day, 7 days a week, 365 days a year.
VA Medical Centers Seek therapy and treatment options tailored to women Veterans' needs.
Maternal Mental Health. Seek postpartum support during pregnancy AND postpartum. Online resources are available or call 1-800-944-4PPD (4773).



Postpartum Depression
Dimensions: 11x17", (PDF)
Dimensions: 8.5x11", (PDF)
Dimensions: 16x9", (JPG)

Postpartum Depression Poster with Contact
Dimensions: 11x17'', (PDF)
Dimensions: 8.5x11'', (PDF)




Download free viewer and reader software to view PDF, video and other file formats.
*By clicking on these links, you will leave the Department of Veterans Affairs Web site.
†VA does not endorse and is not responsible for the content of the linked Web site.
return to top